things you have done! While going into the flashback mode has its own set of pros and cons, it is often a fun mental exercise too! And in this regards, let us take you back in 2000 and share a glimpse of 'no one knew this would happen later' instance. 
Now happily married Priyanka Chopra Jonas was then one of the top 10 contestants for Femina Miss India 2000 pageant. As ironical it would be, Shah Rukh Khan was one of the jury members (with whom Priyanka's affair later on became quite a media hype) to ask a question to the actress. Decked in a black suit, standing on the stage with Malaika Arora (Khan) beside her, holding the mike as the emcee of the show, the question that Shah Rukh Khan had then asked Priyanka Chopra will help strengthen your belief in the word 'irony'.
As a member of the jury, Shah Rukh Khan put up a question as witty as him to test 17-year-old Priyanka Chopra. Indirectly and unknowingly that his question would have a major relevance later, SRK had then asked her, "This is hypothetical. Who would you rather marry? A great Indian sportsmen with all the records in Indian cricket like Azhar Bhai here who would make our country proud, take you all around the world and make you swell with pride or an artistic business person with a difficult name to pronounce like Swarovski who would bedeck you with jewels and fine necklace and you will never have to buy a chandelier for your house ever again or a Hindi film star like me who has nothing better to do than give you complicated multiple-choice questions about a hypothetical wedding like this." 
But Priyanka Chopra didn't need any after-thoughts. As soon as Shah Rukh Khan was done asking the question, the now international star had replied, "I would go for a great Indian sportsman because when I come back home or he comes back home, I know I will be there to be his support to tell him that I am proud of him as much as India is. To be able to tell him, 'Hey look, you did your best.' I will take immense pride in my husband who will be a man of strong character if he can bring so much pride to my country." Whoa! Check out the video here: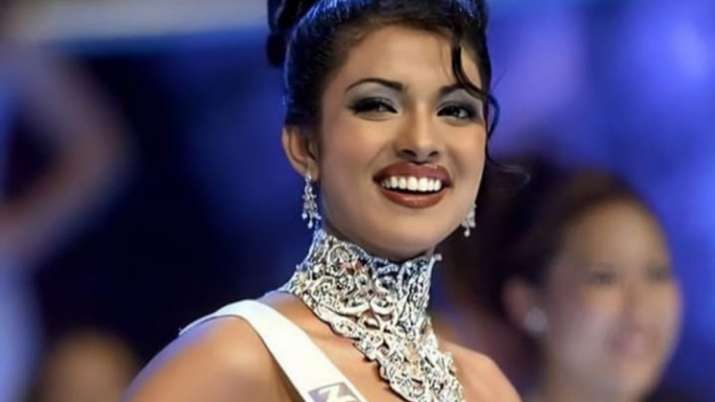 Whoa! Rumours of something 'more than friends' brewing between King Khan and our desi girl, came as a sweet surprise to their fans. The duo got along really well while shooting for Don 2 and they were often spotted spending alone time by many. At one such instance, the stars were seen together at 3am. When questioned about the same, they snapped back saying that it was just for rehearsals. Needless to say, SRK's wife, Gauri Khan was not at all impressed with her hubby's conduct and rumours had it that Shah Rukh was strictly warned by Gauri to never be seen together in public. 
In an interview with the host of an international chat show, Dirty Laundry, Priyanka Chopra being her sassy self, had revealed quite a few details (indirectly) about her alleged affair with Shah Rukh Khan. When she was asked about a leather jacket she wore at the show, she revealed that it belonged to an 'ex-boyfriend' and had shared, "Things get exchanged. But this one I really really loved because it kind of became mine. It stopped being him like after it stayed back in my house once and I just kind of wore it." People had then immediately started the guess game as to who it would be, and then, came about the following picture (no further words needed)! 
In a throwback interview with IBN, Shah Rukh Khan had shared his thoughts on linkup rumours with Priyanka Chopra. He had shared, "Two parts – 1. To me, what is most disturbing is the fact that a lady who has worked with me has been questioned and somewhere down the line, not been shown the kind of respect I show her, or all the women. I think it's little disrespectful. I am extremely sorry about that. Sorry exactly is not because of anything I have done but the fact that she is my friend, she is one of the closest friends I have and very close to my heart and always will be."
Shah Rukh Khan had further added, "I just feel that sometimes, when things are said, I needed to step back from it because I find it very small and menial and you know it just tends to spoil the relationship that people share while working together. She is a little girl who started her Miss India crowning with me or Miss World crowning with me, I don't remember. We have shared some of the nicest moments on-screen, off it as friends and it's unfortunate. It's extremely unfortunate and sad for me to think that a friendship gets a little soiled." (Also Read: Kareena Kapoor Khan Wanted To Date Rahul Gandhi, Before Shahid Kapoor And Saif Ali Khan [Throwback])
Guys, come back in 2019 and see how life changes and where it takes you! Also, what are your thoughts on Priyank Chopra's throwback video? Let us know