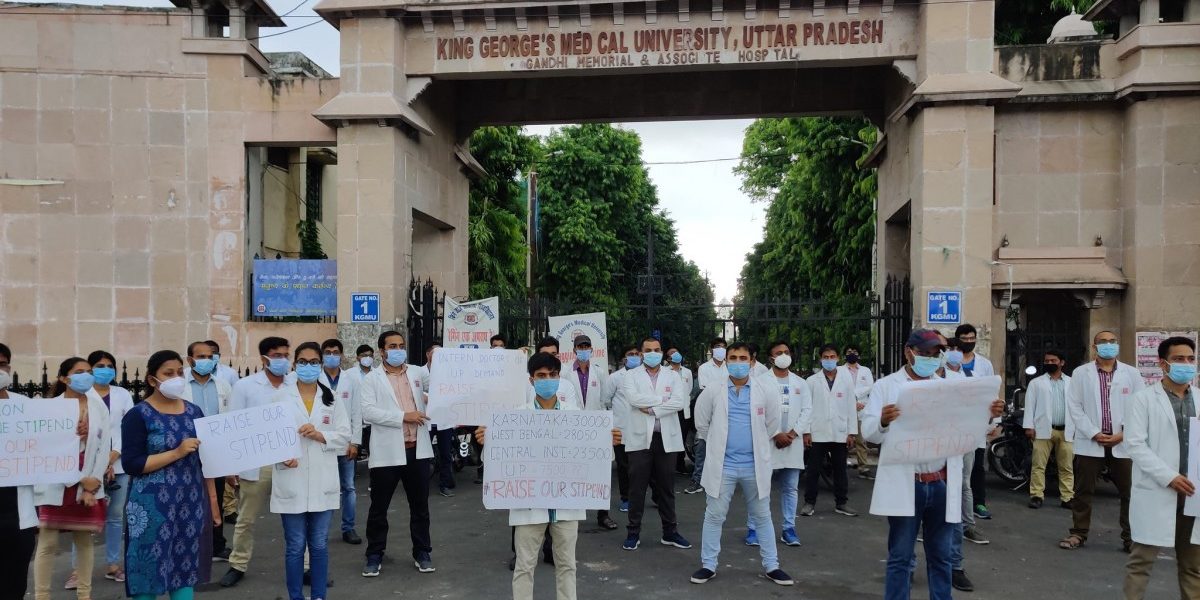 Meerut: Several medical interns across Uttar Pradesh have been on strike for the last week demanding a hike in stipend. Currently, interns at state-run medical colleges in UP are paid Rs 7,500 a month, or Rs 250 a day.
"Is it fair that we are risking our lives and are at the forefront of the battle against the coronavirus, and our stipend doesn't even cover our cost of living? The government calls us 'corona warriors', but we still have to ask our families to send us money just so that we are able to pay our mess bills," an MBBS intern at the King George's Medical University in Lucknow told The Wire.
Rs 7,500 is among the lowest stipends paid to post-MBBS interns around the country. While interns at central medical universities earn Rs 23,500 a month, some state governments like Assam and Karnataka pay Rs 30,000 a month to interns. Karnataka has only recently increased the stipend from Rs 20,000 after protests.
"We are earning less than one-third of what our peers are earning in Karnataka. Are our expenses less? We are living in cities like Kanpur, Meerut, Lucknow," said an intern from the Lala Lajpat Rai Memorial Medical College (LLRM) in Meerut, where all 150 interns are on strike.
The stipend of medical interns in UP was last increased in 2010, from Rs 1,950 a month to the current Rs 7,500. According to the Indian Medical Association-Medical Students' Network, in some private medical colleges interns are only paid Rs 6,000 a month. 
For context, as per the seventh pay commission's recommendations which have been accepted by the Centre in 2016, the minimum wage for government employees should be Rs 18,000 per month.
The demand for increasing stipends of medical interns has been around in UP for the last several years. "I have myself seen this demand being raised every now and then for the last five years, since I began my MBBS. The government keeps giving assurances but nothing happens," said an intern at the Ganesh Shankar Vidyarthi Memorial Medical College in Kanpur.
The current strike began on July 7 in Meerut and has spread to state government medical colleges in Agra, Ambedkar Nagar, Jhansi, Allahabad, Kannauj, Saifai, Gorakhpur, Kanpur and Lucknow with varying degrees of intensity, as in some medical colleges interns with duties in the COVID-19 ward or the ICU continue to work. In all, around 1,500 interns are striking.
"We had been writing letters asking for an increase in stipend since we joined at the end of March. But nothing happened. So, we had to do something to make our voice heard," said an intern at LLRM in Meerut.
In several districts, even the Rs 7,500 has not been paid. For instance, in Agra, dues of three months remain unpaid. "We began working since the end of March and till now have not been paid a single rupee," an intern at Sarojini Naidu medical college in Agra said. In Meerut, dues for three months were paid together in early July.
Interns across the state have been at the forefront of healthcare provided to COVID-19 patients. Their duties rotate between the emergency section, outpatient department, triage (where patients wishing to be tested arrive), holding area (where patients are kept after being tested and till their test results arrive), COVID-19 ward and the intensive care unit (ICU).
In some places like Meerut and Agra, all interns are on strike irrespective of department, while in others like Lucknow, interns assigned duties in COVID-19 wards and ICUs continue to work.
"Our assigned duty is for eight hours every day. But sometimes – actually often – we have to work much more than that," said the Meerut-based intern.
Those who are working in the triage and holding areas – where they encounter those infected with COVID-19 – are not provided with full personal protective equipment (PPE). "Full PPE is given only to those who have duties in COVID ward or in the ICU," the intern said.
Interns across the state have also said that they are not being provided enough masks. In Meerut, for instance, one mask is provided every four days. "So, we have to wear the same mask every day. It's practically useless," the intern said.
"But we understand that there are supply constraints for masks and PPEs. We are more concerned about our stipend. Forget about saving, we are not able to manage our survival with Rs 7,500. We have to ask our parents for money," an intern from Lucknow said.
The interns stay in the medical college's hostel and have to pay around Rs 1,000 per month as fee. Additionally, they also have to pay about Rs 3,000 a month for meals at the mess. "Then there are expenses for books, etc. We also have to prepare for post graduate entrance and as you know medical books can be expensive. So we can't even order food from outside on the odd occasion if we want to. We are young so sometimes we want to indulge. But it is not possible," he said.
"Sometimes I wonder if it is worth it. We are being exposed to the virus. Our lives may be at risk. What do we get in return? I am not saying that I became a doctor for the money. I joined for respect. But am I getting respect? We are called 'corona warriors', utensils are banged for us. But when it comes to our problems the government is not listening to us. That's not how you show respect," the intern said.
BJP MP from Meerut Rajendra Agarwal has written to chief minister Yogi Adityanath, urging him to consider the demands of the medical interns. District administrations of several districts where interns are striking have also written to the state government highlighting their demands. No decision has been taken as yet by the state government.
K.K. Gupta, who is director general of medical education and training, Uttar Pradesh, said that increasing the stipend will take some more time. "See, there is a process to be followed. The government works in a certain way. Things don't happen instantly," Gupta said.